Written by Laura Lawrence and Tracey DeLillo from the Alamo Colleges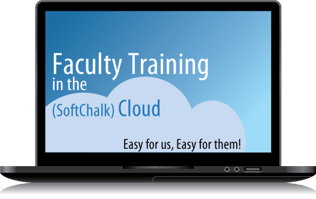 As traditional student coursework has made the move to an online environment, a great deal of thought has been given to the most effective ways to use technology without sacrificing engagement and outcomes. Concurrent with this trend, though not necessarily related to it, is the broadening of student demographics. Students who were once considered "non-traditional" due to age, marital status, family and job responsibilities, or other characteristics have become more the norm than the exception, especially in community colleges. The lessons we are learning from these shifts are also applicable to the faculty training side of the house.
We have a diverse audience of faculty, many of whom fail to fit any academic stereotype. This can be a good thing or a not-so-good thing from a training perspective. On one hand, we might have instructor's fresh from grad school, who are comfortable with learning management systems and related technology. The likelihood is that they took one or more online classes during their education. On the other hand, we have many adjuncts who have full time jobs outside of their teaching duties. They may or may not possess advanced computer skills, but what they most definitely have is limited time to devote to getting up to speed with new initiatives. Of course, the time crunch is also a factor for full time faculty, whose "other duties" seem to grow as their ranks shrink in favor of more adjuncts.
These are just a few scenarios. There are a head-spinning number of combinations when you consider the variables: faculty experience (pedagogical and technical), access to resources (human and technical), time constraints, motivation, and last but not least, need. For each new tool or technique that we need to train faculty on, we must consider the following: Do all faculty have to learn and adopt this process, or just some, such as those that teach fully online classes? Can this process be self-taught, or would it benefit from face-to-face and/or hands-on training? How long will it take to learn? What level of technical expertise does it require? How important is it for day-to-day course activities or long term faculty development? Can the same training be utilized across the entire college district, or does it need to be campus-specific?
Access to training is another important issue. If the faculty audience for our training is a captive one, we can schedule a face-to-face session, or utilize online tools behind firewalls or institutional authentications. If we are targeting online faculty, especially those affiliated with more than one of our colleges, awaiting affiliation, or truly working from a distance, we have to make sure we make training available in a place they can get to. Some content needs to be in a protected online environment, but otherwise it can be made available using "unlisted"-style cloud settings, admitting only users who have the link.
We are increasingly turning to online training options as our professional development and teacher training staffs dwindle. Thankfully, there are abundant and diverse online tools available to assist us. We can use static tools, such as intranet repositories of documentation. We have dynamic, synchronous tools such as Blackboard Collaborate and other web conferencing platforms. In between, we have our learning management system (Canvas) and tools like SoftChalk Cloud, where we can create attractive and engaging content. That content can be driven by activities and assessments, or it can be informational.
SoftChalk has given us one flexible avenue for developing online training modules for our faculty. It has proven useful for creating appealing learning options that can be generated quickly and edited on the fly. While it may not be appropriate for every scenario, we're excited by the feedback we've gotten so far, and the possibilities for the future.
Join us for Tracey and Laura's Innovators in Online Learning webinar, "Faculty Training in the (SoftChalk) Cloud - Easy for us, Easy for them" on January 15, 2014 at 12:00pm EDT