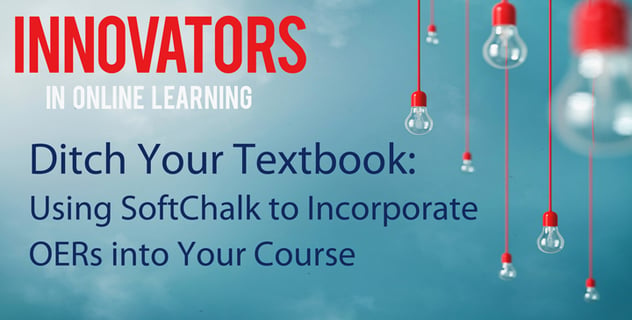 With textbook prices constantly climbing, the need for affordable alternatives has become a high priority for both educators and learners. But how can you reduce or remove the need for a course textbook while still ensuring the learners have access to the materials they need?

In this blog post, which is the precursor to an upcoming webinar, Brian Yates and Meredith Hibit of Red Rocks Community College share their experience of transitioning their course content by using OERs (Open Educational Resources) to replace textbooks within the Spanish Department.

Ditch Your Textbook: Using SoftChalk to Incorporate OERs Into Your Course

After years of toiling with textbooks, online platforms, publishers and bookstores, we at the Red Rocks Community College Spanish Department liberated ourselves from the bonds of commercial education by moving to an OER platform in all our courses. Here are the three primary benefits of going to an OER model that we have experienced:

Benefit one: We reduced the cost of course materials from over $100 to $0. Yes, zero dollars. Once students register for the course, they do not need to purchase anything else.

Benefit two: Students have everything they need from the moment they register for the course. No more waiting for delivery. No more issues with the bookstore. Everyone is ready to go on day one.

Benefit three: We are no longer bound to the outline of a textbook and its supplementary materials. We create a sequence that is logical and relevant to our students and to us. Then we have total freedom to decide what content to incorporate. This allows us to reach our student learning outcomes more efficiently, more effectively and more consistently. We also have a lot more fun.

When we began exploring OERs, a series of important questions arose: How do you deliver OERs to students in a simple way? How do you take a variety of disparate websites, videos, practice quizzes and other online content and deliver them to students in a consistent format that is clear and navigable? And how do you keep track of student progress with all these materials?

We brought these questions to our Director of Instructional Technology and he suggested we explore SoftChalk. Making a big change hasn't always been simple for us, but on this occasion, everything came together almost at once. It turns out that SoftChalk answered all our fundamental questions about organizing, delivering, tracking, and evaluating student use of OERs. And using SoftChalk to do this is relatively simple. Within a few weeks, we developed a template that allows us to present all our materials in one place, deliver this content through our LMS, Brightspace, view student progress and sync student work with our gradebook. Meanwhile, our students have no sense that they are surfing around the web. They get access to endless educational materials without ever leaving the class website.

Samples of the content we created:
| | |
| --- | --- |
| What students see when they open a module. | Interaction for students: video, self-check exercise. |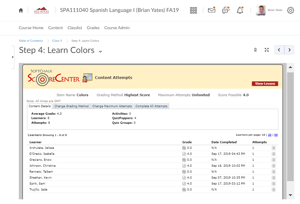 Entry point for tracking student progress.
We are excited to share our experience and answer questions about the product in our upcoming webinar on October 25 at 1:00pm Eastern. We look forward to seeing you there!
---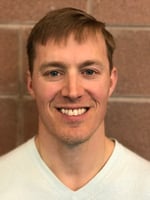 Brian Yates is a member of the World Language Department at Red Rocks Community College in Lakewood, Colorado. He received his BA in History from Yale University and his MA in Hispanic Literature from Villanova University. In his extensive teaching career, both in the United States and in Latin America, Brian has spent five years at the high school level and more than a decade in higher education. The creator and developer of bigtimespanish.com, Brian is dedicated to improving student learning by creating online educational resources and implementing them in his courses.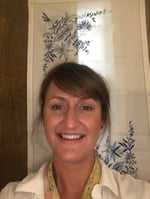 Meredith Hibit is the Chair of the World Language Department at Red Rocks Community College in Lakewood, Colorado. She earned a BA in Spanish and a BA in Communication Studies as well as her MA in Hispanic Literature at the University of Kansas. Meredith has been teaching in higher education for more than 15 years. She is dedicated to sharing her love for learning with her students online and in the classroom.