This week's guest post comes from Dr. James W. Brown, Associate Professor of Science and Former Dean at Ocean County College. Dr. Brown will be participating in our five week Innovator in Online Learning Series on Face-to-Face, Blended and Online Teaching and Learning. Join Dr. Brown and others for the first webinar on Friday, September 7 - Online Teaching F2F, Blended & Online – Week One: Personal Stories.
My teaching online story began in 1998 at New Jersey City University (NJCU). As a newly hired Assistant Professor the Dean asked me if I would like to try developing and teaching the school's first online course. I agreed to do so, and then found that there were very few easy-to-use tools available. I used Dreamweaver for the content, but becoming proficient required a great deal of time.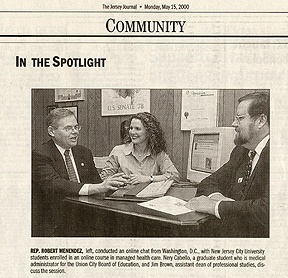 Newspaper Article showing (then) Congressman Robert Menendez (Now US Senator) meeting with NJCU Graduate Student Nery Cabello and Dr. Jim Brown (then) Assistant Dean NJCU to discuss meeting with the students online. My first online was Managed Health Care for graduate students, and it introduced me to the power of the Internet. Students bonded quickly by introducing themselves and sharing a little bit about their personal lives. At the time, the Patient's Bill of Rights was going through Congress. I was able to tap Congressman Menendez (now a US Senator) for an online live chat with my students, and he shared up-to-the-minute information about what was happening in Congress during that very week. Although a New Jersey-based course, I had students from Mississippi, Louisiana, and Rhode Island, as well, and they all came to New Jersey for a student party at the end of the semester- that's how strong a community was built. As an Assistant Dean I then mentored faculty and we continued to develop a number of online courses in many disciplines.
When I moved to Ocean County College on the Jersey Shore I wound up becoming the Dean of Science, Engineering, Health Sciences and Human Performance for a time. We obtained a nearly half million dollar grant from the Robert Wood Johnson Foundation to create a One Day per Week Nursing Program in which the didactic portion was taught totally online and the students attended clinical sessions only one day per week. This online education model addressed the hospital RN shortage crisis, and has become a national model. Since by definition a "face-to-face" one day clinical session was required this program was technically web-assisted.

Microbiology LabPaq from Hands-On Labs, Inc. My latest work involves taking online courses into the Cloud! My "Introduction to Public Health" online course began its' maiden voyage using the SoftChalk Cloud in July. The course is taught at Burlington County College in New Jersey and is the first of its kind using SoftChalk Cloud to deliver all content and allow tracking of student score results outside or inside of the LMS grade book. This course received an Honorable Mention in the SoftChalk 2012 Lesson Challenge. This effort supports a core goal of the New Jersey Public Health Training Center (NJPHTC), to introduce and expose more students to the field of public health. This course is designed to recruit students into public health directly from the community colleges and NJPHTC anticipates that as many as ten out of the nineteen community colleges will offer the course. (Read the full casestudy here.) Particularly exciting is the capability to change content once (through the SoftChalk Cloud) and have that change occur instantly in all of the community colleges in New Jersey using the technology. My journey on the road to online learning has gone from face-to-face, to hybrid, to online and now into the clouds!

Dr. James W. Brown is an Associate Professor of Science and former Dean of Science, Engineering, Health Sciences and Human Performance at Ocean County College. He is a former Assistant Dean at New Jersey City University, Assistant Commissioner of Health for the State of New Jersey, Director of Microbiology at Roche and a Vice President for a biotech company, Celsis Laboratory Group. He is an award winning pioneer in creating online courses especially in science, health care and public health.