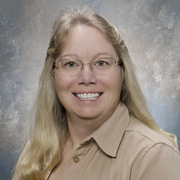 Kim Loomis is the Director of K-12 Online and Blended Learning in Nevada's Clark County School District (CCSD), the fifth largest district in the nation with over 320,000 students. Kim has a rich experience in education, professional development, and innovative program design—from online instruction, course development, and vendor contracting/deployment, with over 20 years with CCSD as a former high school math teacher, building administrator, high school reform coordinator, curriculum coordinator, and innovative projects manager. She was a founding teacher and former administrator at the Nevada Learning Academy at CCSD. Today, Kim leads the CCSD Online and Blended Learning Department and has a deep passion for blended learning. She loves working with schools to create digital learning environments designed for student success!
In this interview, Kim updates us on the progress at Clark County School District (CCSD), toward building a full catalog of online courses for their middle and high schools students. Schools and teachers within CCSD are able to use this curriculum at no cost to the individual schools, in essence, saving the district millions of dollars when it comes to paying outside vendors for a product that may not directly align with CCSD and Nevada State Content Standards.
We last spoke with CCSD about their blended curriculum development effort in spring, 2016. This interview is an update on their progress during the past 18 months...
SoftChalk: You had a goal of having a third of your 320,000 students in an online or blended learning environment by 2015 and when we last checked-in, CCSD had exceeded that goal. Where are you now in terms of online/blended enrollment?

Kim Loomis: Clark County School District met the 100,000 student goal in Dec 2016 and it continues to grow as more schools adopt digital learning environments. High schools are becoming more innovative, as teachers are starting to look for digital assets, not just courseware. The creation of content via SoftChalk has afforded us the ability to share links for distribution, without having a full learning management system. This is ideal for teachers who are using Google Classroom.

That being said, it's hard to count usage, but believe me the numbers of students accessing digital content is ever growing. Today our team is helping teachers create a balanced CIA blended classroom with digital Curriculum, guided Instruction, and authentic Assessment.

SoftChalk: How have your online/blended course offerings expanded in the last 18 months?
Kim Loomis: For course creation, we have targeted the secondary level. Today, we have a full suite of courses in grades 6-12 in all core areas, with a handful of elective courses:
Math 6-7, Pre-Algebra, Algebra I & II, Geometry

English 6 -12

Science 6-8, Geoscience, Biology, and Chemistry

US/NV History 7, World Geography 8, World History, US History, US Government

Computer Literacy 6, Health 8, HS Health, Driver Education
SoftChalk: You utilize Subject Matter Experts (SMEs) for creating the content you distribute, reviewers to make sure the content meets Nevada Academic Content Standards (NVACS) and project coordinators to make sure everything is organized and properly distributed - how has this curriculum design team evolved over the past few years?

Kim Loomis: We have four full-time designers, one in each core subject area, along with two part-time gifted college interns who focus all their time and efforts in course creation and professional development for the end users.

Our focus of late has been with the implementation side and supporting teachers with shifting their mindset to a blended learning environment. CCSD has a planning tool called the Curriculum Engine, where teachers can calendar lessons aligned with District Standards.

Having the SoftChalk links benchmarked in a calendar layer, has increased the exposure to digital assets. This is an easy first step into digital learning for most staff. Those looking for a full online classroom can use the District enterprise learning management system to establish a digital learning environment, which has added assignments, discussion, and assessment pre-made by our staff.

SoftChalk: For those who may be unfamiliar, describe how you created your schema and why you felt this was the best approach in planning out and organizing your content.

Kim Loomis: A schema was created as a road map for course design. It helped us to see the 'big picture' and ensure that all standards were met and aligned to District benchmarks. It also became a great teacher resource document for those implementing the courses. They too were able to plan with the digital content, to complement the learning with face-to-face instruction in the blended classroom.

SoftChalk: I imagine that there has been an audit of sorts for both the curriculum and processes since implementation - what have been the biggest successes you've seen from these overall reviews?

Kim Loomis: We've been at this since 2012, so over the years the course development process has evolved. Matter of fact, in some courses, like our early high school English and math course (started in 2012), we decided to start all over, rather than revise, because we've grown so much in our design templates and delivery models.

As teachers have been using the content, they provide us with lots of feedback on where students get confused or praise the team for quality design elements. We take this information back to the team and re-vamp lesson structures. For example teachers were asking for better ways to present vocabulary and the team made changes in the newer courses. So, during the revision process of our older courses they too will be brought up to par. We are making great strides.

Check out the CCSD award winning Biology (2016 – 2nd place) and US Government (2017 2nd-place) templates that were awarded in the annual SoftChalk Lesson Challenge.

SoftChalk: What challenges or areas for improvement have these reviews brought to light and how have you addressed them?

Kim Loomis: One challenge, that is also a strength, is the development of content via SoftChalk. Using a third party cloud-based authoring tool allows the design team to make corrections and every classroom in CCSD has the edited version upon "save."

Editing is also where some of our most tech-savvy teachers would like their own versions. However, to ensure alignment to District standards and benchmark across the nation's fifth largest district, it's important that there are not multiple versions of the content running around.

SoftChalk: You integrated a lot of technology into this program to make it comprehensive and modern but, as we all know, technology is an ever-changing market - especially in education - how have you kept up?

Kim Loomis: We have tried to stick with proven "stallions" when it comes to locating open educational resources -- those organizations that have proven that they will be around through time. As they grow, we too grow with them. We write a lot of our own content, but if we can locate a high quality resource, we come back to it often.

SoftChalk: Since implementation, what has the response been from on-the-ground teachers utilizing the curriculum for their classrooms (blended or online)?

Kim Loomis: Teachers are excited to have digital assets to utilize in their classrooms, aligned to District standards and benchmark. You should see their faces when we share the content, it's like kids in a candy store – all smiles.

However, the most difficult part is changing teacher mindset and understanding their new role in the blended classroom. If the digital curriculum delivers Depth of Knowledge one and two (DoK 1-2), teachers often times don't understand what they are supposed to do to guide instruction. Our team has been helping teachers with the shift to a balanced CIA blended classroom: digital Curriculum, guided Instruction, authentic Assessment.

SoftChalk: What about students? What new doors or opportunities have opened for them with this increased flexibility and access?

Kim Loomis: Students enjoy the opportunity to learn in a different modality -- though it takes time for them to understand their new role – which includes goal setting, time-management, and self-direction. In a balanced CIA blended classroom: digital Curriculum, guided Instruction, authentic Assessment - everyone wins.

SoftChalk: For other schools looking to implement an online or blended program at their school, what advice do you have for them as to how to begin?

Kim Loomis:
Professional development and mind shift cannot be left unaddressed. This includes classroom pedagogy – like the CIA of blended, as well as design elements. Help your staff understand 'why' go digital before addressing 'how' to get there.

Teachers are hard workers and building digital content takes time. Ask yourself, how can you get digital assets into teacher's hands? Are you expecting them to build it, if so are you providing them time and a process (e.g. templates) to make quality products?

Templates – Templates – Templates: I cannot say enough, that having templates to guide development and design, will reduce the cognitive load of teachers and students. It may sound silly, but even the simplest set of shared icons can make a huge difference.
SoftChalk: What's next for CCSD?

Kim Loomis: Nevada is embarking on a one-to-one initiative in the middle grades, via the Nevada Ready 21 program. We're very excited to see devices in student's hands. The goal is to also put digital content into the classrooms, via the CIA of blended.

With a catalog of courses ready to deploy, we are at an opportune point in time to see digital learning explode in Clark County. Our team have been working with several of the CCSD sites, to inform them of the free digital assets, aligned to District standards and benchmarks, along with helping with the mind shift changes to digital teaching.

SoftChalk: What inspires you?

Kim Loomis: I have a passion for digital learning. It began back in 2000, when I created my very first digital learning environment for eighth grade math students in need of recovery. I knew then that if students could learn via the internet, so could adults. So over the last seventeen years this has been a growing passion – to build high quality digital learning environments for both adults and students.

The size of Clark County has been like working in a huge laboratory. With so many schools, each with different programs and needs, I've been able to funnel my passion to help hundreds of schools and teachers to build quality digital learning environments for students. Together we have created numerous different deployment models.
---
Inspired to Learn More? Here are some additional opportunities and resources: